RIP the most passionate romantic filmmaker of all times…Yash Chopra…with you ends an era of passionate love stories on the silver screen …will miss you deeplyyy!
Before I could start, this is my tribute to the King of Romance <3…you truly touched our hearts with your passion for romantic
film-making
.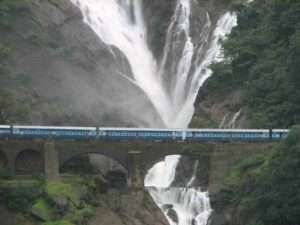 Dudhsagar Waterfalls @ GOA
Located on the Mandovi River, in the state of Goa, it is aptly named Dudhsagar as the water tiers down like milk. This was the reason why we have chosen Margao as our halt as the waterfalls lies on the Londa – Margaon railway route. The planning to this God's beautiful cascades was of two masterminds in our group (Mr. Z and Mr. R). The two dudes of our gang had all the information on how to reach there or as they claimed :P.
Nevertheless, the story goes like when you get down at Margao, you will be flooded by jerks in the facade of travel agents wanting to take you to Colva Beach, South Goa. We saved ourselves from their cheap gimmicks to be arrested in other mud slinging place aka the government prepaid counter. They were no respite, lawfully appointed jerks all around. They told us Colva beach is at a distance of 11 kms and we have to pay 300 in total, while their illegal counterparts were ready to take at as low as 150. Being law abiding citizens of India, we went with the prepaid taxi. He robbed us of RS. 300 for just five odd kilometers. So, now you know, you cannot trust anybody in GOA, a land of money hungry travel agents and frivolous government appointees meddling for their own pocket.
Somehow, at the end of fourth day, we reached Colva beach and parked ourselves in a good hotel or so the hotel claimed. The story ahead is too unpredictable and
Topsy
-turvy.
Did we reach Dudhsagar waterfalls on Day 5? Wait until I compose my next blog….