Hampi in Karnataka, what's the first word that comes to your mind when you search for this place… It is the RUINS… Yes, it's the city of ruins. All the pictures that you see online cannot do justice to the real beauty that this place has to offer. Housing a number of ruined temples and stories of the golden yesteryear (kings & queens), this city surprises you in more than one way.
Situated in Karnataka, we reached this place after a rather eventful train journey, which instead of 16 hours, took close to 30 hours – Thanks to incessant Mumbai rains on 26 July 2019. On the bright side, we could reach this place and enjoy our three-day stay in a pleasant weather. 
How to reach Hampi in Karnataka?
Hampi can be comfortably reached via Hubli. A three-hour train journey from Hubli to Hospet put an end to our never-ending struggle to reach Hampi Karnataka. But in the end, it was all worth it. Hampi has this exclusive charm to it, right from its cafes to various historical places, everything has an attitude that you can soak in. The first place we visited was the VIRUPAKSHA TEMPLE. Never seen something as beautiful as this landscape – a true post card from all angles. This is a must-visit place if you are heading to the town of Ruins.
VIRUPAKSHA TEMPLE 
 Before you enter the vicinity of the temple, it is advisable to fill up you belly at the Mango Tree restaurant. The food, ambience, paintings, seating arrangements and not to forget the crowd, everything is so unique, as if you are in some French town in a countryside.
 A laidback air surrounds you as you enjoy your Italian, French, or Indian food delicacies. Catch up with the foreigners in here, all engrossed in their own world, soaking in the climate as much as they can. One look in their eyes and you can feel they are at peace with their surroundings. The food is yum. Don't forget to have Nutella, banana, coconut pancake while you are at this eatery. 
 After visiting the temple, spend some time on the rocks, behind the temple & soak in all the peace and divinity that this place has to offer. This view, I can still close my eyes and feel the sheer warmth of this beauty! 
 One tip – make sure to wear comfortable shoes as you have to keep on walking the massive ruins if you wish to explore Hampi in Karnataka.
 Coracle ride, Hampi in Karnataka
From Hampi Virupaksha temple we sat in our autos, which by the way is a good way to navigate around the town on a budget. Just a few minutes and we reached the spot where we enjoyed the coracle ride. It is a fun and safe ride as they handed us life jackets before we entered the circle shaped boat or popularly called as CORACLE. The water was serene and cold. A half an hour ride that was peaceful and exciting at the same time. One look around, and you will see several rocks stacked one over the other, making up for a picturesque scene. The balancing rock was a true marvel, a circle-shaped rock balanced perfectly on a flat surface. Gravity totally defies at this place.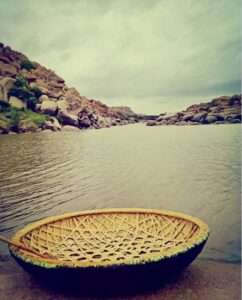 Before the ride end comes the best part. The rider let the boat roll in fast circles to let the traveller enjoy the adrenaline rush. This is another must thing to do when in Hampi Karnataka – CORACLE RIDE.
Narsimha statue, Hampi in Karnataka
 Then, we visited a few temples one after the other, the scene pretty much the same from one ruin to other. A temple with a huge, one-stone carved Ganesha, Narsimha, etc. A place called Queens Bath, where the Ranis or queens of those era would bathe. The stories that accompanied each destination would just made us imagine the rich lifestyle of the yesteryear Raja & Ranis.
Tungabhadra Dam
Many temples here don't have any idol as during the war, most idol statues were ruined. Our first day of tour ended with a visit to the Tungabhadra Dam which is developed into a tourist spot with fancy sound and light show and a fish aquarium to appeal to the little ones. Another must-visit destination of this postcard town.